St. Luke's Church of England Primary School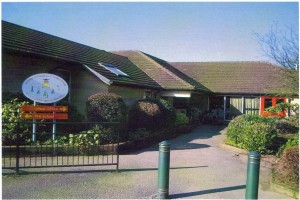 Spire Hollin
Glossop
Derbyshire
SK13 7BS
Telephone: 01457 852602
www.st-lukes.derbyshire.sch.uk
Headteacher: Mrs A. Littlehailes
CONTENTS
Mission Statement
Our Staff
Our School
Personal, Social and Emotional Development
Special Needs and Inclusion
The School Day
The Curriculum
Lunchtimes
Additional Activities
Uniform
Data Results
Holiday list
Parent, Teacher and Friends Association
Governor contacts
Extended School Care
This prospectus was designed and created with help from our Year 6 children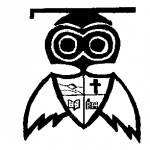 St Luke's Mission Statement
Aims & Objectives
"At St Luke's Church of England Primary School we believe that everyone should have the opportunity to aim high and reach their full potential"
We achieve this through our "Always" behaviour expectations and our innovative thematic curriculum which encourages our children to be:
SUCCESSFUL
TOLERANT
LIFE LONG LEARNERS with the
UNDERSTANDING,
KNOWLEDGE and
ENTHUSIASM to become
SUCCESSFUL CITIZENS
Staff List
Head Teacher
Teachers:
Reception (Kestrels) – Mrs Hiller
Yr1 (Peregrines) – Mr Cooke
Yr 2 (Ospreys) – Miss Nichols
Yr 3 (Kites) – Mrs McLaren
Yr 4 (Harriers) – Ms Lee
Yr5 (Eagles) – Mrs Clayton
Yr 6 (Merlins) – Miss Byron
Mr Warburton covers planning and preparation time and 1 day in both Eagles and Kites
Mrs Gallacher covered planning and preparation time 1 day a week
Classroom Support:
Mrs Radford
Mrs Jones
Mrs Harris
Mrs McBride
Mrs Swift
Mrs Farrell
Mrs Grandige
School Admin:
Care taker:
Cleaners:
Kitchen Staff (Cooks):
Mrs Howe
Mrs Heapy
Ms Biesty
Mid-day supervisors:
Mrs Wilton
Mrs Wilson
Mrs Carr
Mrs Lightfoot
Mrs Mcormick
Mrs Swift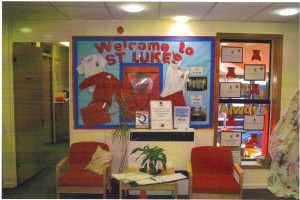 About our school
Our Ofsted report in September 2012 stated that "A number of parents and carers who spoke to inspectors commented on the 'excellent family atmosphere' in school that makes their children feel safe and valued. Pupils say how much they enjoy school because lessons are fun and they make such good friends."
Our present school was opened in 1985. It has a large courtyard in the centre of the building, two playgrounds, a large playing-field, grassed areas with benches and a sensory garden.
All the class rooms open onto the central garden area, except Yr6, although they do use the area too.
Each class room has an interactive white board, PC's and is timetabled for the use of our laptops which are housed in a portable trolley.
Our comprehensive library, with a range of fiction and non-fiction, is for the children to access.
We have a hall which is used for PE, concerts, assemblies, fund raising events and a Toddler group on a Tuesday Morning.
St Luke's is a school with approx. 170 children on roll.
We have a very active PTFA which raises funds for school through a range of events and activities.
We are a happy and conscientious staff who have the welfare, development and happiness of the children at heart.
Please do not hesitate to contact us at any time if you have any worries or concerns about your child.
Admissions
The standard admissions number is 30. Parents wishing to seek a place for their child must make an application to the LEA. Please call into school in the September before your child starts school and our Admin staff will be happy to explain the procedure to you.
Attendance
Please ensure that your child attends school regularly and punctually.
If your child is absent it is important that you send a letter with them when they return to school to inform us or their reason for their absence.
There are strict guidelines concerning holidays within term time and permission is rarely granted, unless for extremely exceptional circumstances. Parents should be aware that Derbyshire enforce a fixed penalty scheme for unauthorised absence.
Religious Education
The main religion taught at St. Luke's is Christianity as this mirrors the principle religion of Great Britain. We have strong links with our Church and the School benefits from regular contact through visits, visitors and shared events. To give the children an understanding of other world faiths, Judaism is taught alongside Christianity in Key Stage one, Judaism and Hinduism in lower Key Stage two, and Islam and Sikhism in upper Key Stage two. Comparisons are drawn, where appropriate, between Christianity and the six world faiths followed in most countries of the world and in line with the agreed syllabus for Derbyshire.
Collective worship takes place each day with a special Family Assembly every Friday at 9:00
Personal, Social and Emotional Development and Citizenship
At St. Luke's we believe very strongly in developing the whole person, encouraging them to find their strengths and celebrating their achievements. It is our aim to foster their talents and provide a stimulating curriculum to develop them. Our scheme of work reflects our cross curricular thematic approach and develops a range of ideas and activities.
Our Behaviour Policy reflects the Christian ethos of the school through our "Always" Expectations.
Always do as you are asked first time
Always respect each other and the things around us
Always try your best with everything you do
Always be ready to learn and be honest with yourself and others
Always treat people the way you want to be treated and use friendly words and friendly behaviour
Our House Points system encourages the children to work towards gaining points for their teams. The six Houses are Beech, Holly, Oak, Rowan, Sycamore, Willow. Their achievements are celebrated each Friday assembly and each House has children from Reception to Yr6 who choose the House Captains.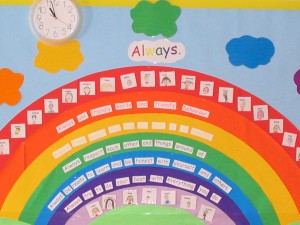 Special Educational Needs / Inclusion
St. Luke's is a fully inclusive school and aims to cater for a broad spectrum of Special Educational Needs (SEN). In order to meet the needs of children with SEN a variety of strategies are used in both Teaching and Learning. St Luke's enjoys good links with numerous outside agencies which enhance our support of the children and their parents.
We are committed to providing a rich and balanced curriculum irrespective of the child's disability, gender, ethnic origin or cultural background. We strive to modify our approach in order to provide access to the curriculum at the child's individual level.
Gifted and Talented
At St Luke's we encourage the children to develop their talents further. Our assessment allow us to signpost parents who may need help in supporting their child's talents in other curriculum areas such as singing, art, sport, and music. These achievements are celebrated each week in our Family Assemblies.
The School Day
School begins each day at 9:00 and ends at 3:20 for the Infant children. Lunch-time is from 12:00 till 1:15.
For the Junior children the day ends at 3:30. Lunch is from 12:15 till 1:15.
The doors open at 8:50 for the children to enter school. Due to space restrictions we ask that Parents leave children at the door. There is a member of staff to supervise them.
For the safety of the children the car-park gates are closed from 8:45 till 3:45. All exterior doors are also locked and access is via the Main Reception.
Children arriving late need to be signed-in by an adult.
Dinner money is collected on a Monday. Please put it in a sealed envelope with your child's name and class on the front.
Literacy
At St. Luke's we try to make the learning of English skills as interesting and enjoyable as we can. The children use their skills in a way that encourages creativity and imagination whilst ensuring high standards of reading, writing and speaking and listening. Targets are set termly with the children to encourage them to take responsibility for their learning.
French is taught by a specialist teacher in Year 3 upwards.
Numeracy
At St. Luke's maths is taught in a creative and fun way. We use practical activities and ICT alongside Teacher directed lessons. Children are encouraged to work independently, with partners and in small groups in-order to solve problems by applying their mathematical knowledge. Targets are set termly with the children either by class, group or individuals.
Science
In Science we make discoveries about the world around us by carrying out practical activities and investigations. Children use a variety of equipment and resources to make their learning meaningful and enjoyable. They are encouraged to record their work in a variety of different ways.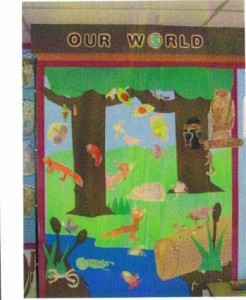 Creative Development
Music plays an important part in our curriculum and children are encouraged to enjoy and appreciate a wide range of different music. Children have the opportunity to create their own compositions and perform together. Visiting musicians provide workshops and taster sessions, and music clubs and instrument lessons encourage children to develop their individual skills.
Like music, art is valued and celebrated through classroom displays, displays throughout school and even "Art in the park". Children are taught skills through a range of media and artistic styles and where possible these are linked to our topic themes

Knowledge and Understanding
Design and technology is taught throughout school. Children are encouraged to solve problems in a creative way and to evaluate and amend their work as they go along. Projects include food technology, structures, mechanics and electronics. Children are encouraged to work both independently and in groups to design, make and complete their projects.
Geography and History are taught throughout the school. Our Thematic approach allows the children to study in depth, a wide range of geographical areas and times. We ensure the children use research skills to learn about the world we live in, starting close to home and gradually spreading further out. We also encourage a positive approach to our environment and re-cycling. We use the local environment to study the effect of humans on the environment. We have a gardening club and the children help to look after our sensory garden and courtyard, where we were very successful in growing a variety of fruit and vegetables last year.
Physical Development
In the Foundation Stage the children are encouraged to explore how their body moves and special awareness through a range of large outdoor equipment. In P.E. children are encouraged to take part in a variety of activities including dance, gymnastics, athletics, outdoor pursuits, netball, football, rugby cricket and swimming in year 3 upwards. We also have clubs which run at lunch times and after school. We enter lots of inter-school competitions in the Glossop and High Peak area which the children thoroughly enjoy being part of.
PE Kit: Black shorts /White T-shirt /Black pumps. Please ensure all clothing is clearly named and in school in a draw-string bag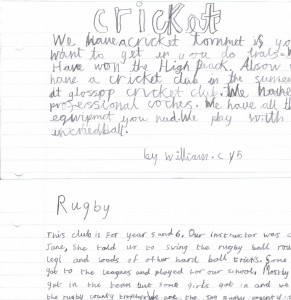 Information, Communication, Technology
We have interactive whiteboards in every classroom and the children have access to PC computers in class. We also timetable the Laptops which are housed in a re-charging trolley. We have a range of software and equipment to support and enhance both the teaching and leaning of IT throughout school. The children are encouraged to use their skills in their own research and Yr6 are developing the school's web site with support from our technician.
Lunch Times
At Lunch time the children are cared for by an experienced and dedicated group of mid-day supervisors. Each class has its own mid-day who liaises with the class teacher. Meals are £9.75 per week(£1.95 per day) at present and are cooked to an excellent standard by our own kitchen staff that follows the menu developed by Derbyshire and the Governments nutritional guidelines. Themed weeks are planned throughout the year and parents are often invited to join their child for lunch.
Lunch Time Clubs
We have a range of clubs which run during the lunch time break including Choir, recorders, and the Girls football team.
Other clubs are run on a 4 weekly basis by the upper Key Stage Two children for the Infants and are supervised by a member of staff.
Additional Curriculum Activities
We have a wide range of activities open to the older children including:
Choir
Instrument lessons
Film Club
Gardening club
Sports clubs
Drama Club
Educational visits to support the learning eg. Heritage centre, Air Raid centre,
Residentials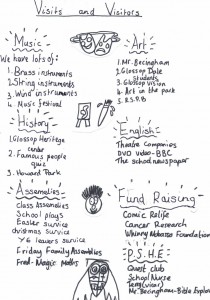 Homework
We believe that children should be allowed to enjoy all the extra activities they do after school without the pressure of school work at home. For this reason we set activities which will support the learning that is going on in school.
In the Infants home work consists of:
Reading books in every class.
Reception – key words
Yr 1 and Yr 2 – Spellings and tables if appropriate
In the juniors home work consists of:
Reading books in every class
Yr 3 and Yr4 – spellings, tables and own research linked to the topic theme (guidance will come from the Teacher with expectations and how to support your child)
Yr 5 and Yr6 – as above but with additional re-enforcement activities as the year progresses
Uniform
All uniform can be purchased from Tesco online
We expect all children to wear:
Boys
Gray trousers or shorts
White polo shirt
Uniform purple jumper or cardigan
Black shoes
Girls
Gray skirt or pinafore
White polo shirt
Uniform purple jumper or cardigan
Black shoes
Summer dresses (purple / lilac and white check)
Book bags are also on sale from the school office and are very useful for keeping books, pictures and letters safe, to and from school.
For health and safety reasons children are not allowed to wear jewellery or watches during PE and they must be removed for the lesson. We ask that if you wish your child to wear ear-rings you take them at the beginning of the summer holidays to have them pierced so that they can be removed easily when school restarts in September.
Extended School Care
At St.Luke's we are served by 4 settings which provide:
Before and After school care
Drop off and pick up
Holiday care
See our "Extended School Care" page for more information.