Dear Parents,
Welcome to all our new parents who should be receiving this newsletter for the first time.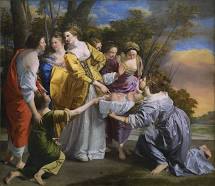 We have been having a very exciting week in school as it is one of our favourite events in the school calendar, I know I say that a lot what can I say I love lots of things, it is Take One Picture Week. This is a week when all our work is inspired by a picture chosen by The National Gallery. This year the picture is 'The Finding of Moses'. The learning is led by the children and we love seeing where they take us. Some classes have become interested in the fabric and dyeing some in the basket and how to make it waterproof. People have been doing drama imagining what the people are saying, classes have devised dances starting from the pose. Some classes have become fascinated by the baby and wanted to learn more about babies. There is costume making, puppet making, spinning, painting, drawing, writing, researching, maths and loads of other things. The school is abuzz with creativity. Yesterday I walked around school and there was one class experimenting with floating, one class recreating the scene, one class writing a piece of music inspired by the picture, one class testing natural dyes, one class designing beds for babies, one class talking to a Paediatrician about babies (and being doctors in scrubs with stethoscopes) and another making life size figures from the picture.
After all that excitement I have just a few reminders. Please can you remember to put your child's name in all their clothes. It is very hard to return an unnamed item of clothing to the right child. I have noticed people cutting across the carpark with their children rather than using the path. The one-way system is set up so the children can enter and leave school via the path which is much safer than crossing the carpark, I really don't want children to start viewing a carpark as a safe place to be.
The number of children arriving at school late is beginning to creep up please ensure your child is here on time every day.
A parent has very kindly let me know that on the other side of the tunnel under the railway there is lots of work being done on the factory. She says the area is full of skips, equipment and people and is not as safe as it usually is. If your child walks home without an adult, you might want to check it out and talk to your child about how to stay safe in a busy area like this. It is lovely to see so many of the older children becoming more independent and learning how to walk at least part of the way to and from school on their own. I know some parents drop off and meet their child a bit away from school to give them a little bit of independence. Some start by dropping them off at the gate and then gradually increase the distance when they are sure their child can do it safely. Talking of walking it is going to be Travel Smart week in a couple of weeks, the old walk to school week, when everyone is encouraged to reduce the car journeys to school. I will put out more information about this.
Stay happy and healthy
Alice Littlehailes